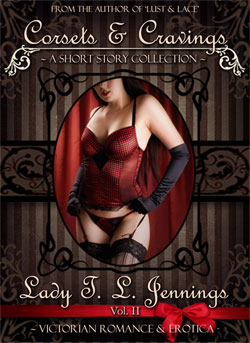 Genre: Historical Romance, Erotica
Type of Short Story: Short Story Collection
Summary: "Corsets and Cravings" is a short story collection of five newly written Victorian romantic and erotic short stories and includes the following stories:
The Pianoforte
Sinful Dealings
The Castle in the Mist
Secret Letters
Under the Full Moon

Excerpt:
From "The Pianoforte"
"Reader, he kissed me!
At first, tender and careful. Tentatively, perhaps to see if I would resist him or not. However, I kissed him back, full of passion. An entire summer of suppressed desire and longing rose towards the surface. I buried my hands in his hair and he cupped my face as the kiss continued and grew into forbidden emotions, which irreversibly whirled through my body."
Purchase links available on author's website.