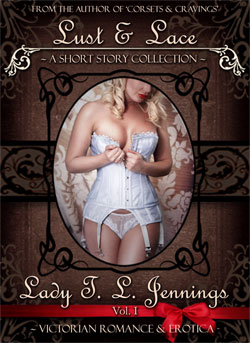 Genre: Historical Romance, Erotica
Type of Short Story: Short Story Collection
Summary: "Lust and Lace" is a short story collection of eight newly written Victorian romantic and erotic short stories and includes the following stories:
St Hubert's Day Fox Hunting
Strange Masks
View of a Cemetery
Master and Servant
Booklover
The Portrait of Mrs Elliott
Wildflowers
The Governess
Excerpt:
From "View of a Cemetery"
"…Not responsible for my actions…" she whispered slowly and stood up, tip-toe, and kissed him. He was too surprised to draw back and when he tried, she had already placed her unexpectedly strong arms around his neck and he lacked the strength to pry them away. In fact, he felt strangely helpless, like it was someone else who acted instead of him, as he kissed her back. His hands involuntarily reached her waist and pulled her closer."
Purchase links available on author's website.